Special Encore Presentation Tuesday Nov 1 at 7 PM eastern
Want to discover how to be Highly Favored…like all the time?
But first…
What does it mean to be Highly Favored?
For me…  being Highly Favored means if there is an opportunity that I desire. It will come to me easily. This has been happening for me especially in the past year.
If I am wanting or needing something…it just shows up ~ often magically!
When you wake up and your first thought is…"I AM Highly Favored", you have the sweetest, calm, peaceful energy and feel like you are on top of the world!
It is my desire for it to happen for you too.
I earned this High Favor as a reward for certain service. (More about the service I rendered in a second…)
I will guide you how to have this AND even GREATER rewards of favor.
Being Highly Favored is MORE than just a feeling. You just KNOW it!
Imagine waking up each days and instead of saying…
"Oh Crap, what do I have to deal with today?"
You will say: "Oh Joy, I AM Highly Favored and GOOD things are coming for me today!"
Imagine KNOWING that you are loved by many unseen hearts.
Imagine KNOWING  that ancestors are working behind the scenes on your behalf.
Imagine KNOWING that Light Beings are eager to do favors for you!
Imagine KNOWING that Deities are working together to bring you the desires of your heart.
Imagine KNOWING that even other people start to notice you and look at you with favor.
YES!
Being highly favored,  Makes you feel as if you are indeed the darling of the universe.
Being highly favored,  Means that everything in life starts going your way!
Being highly favored,  gives you confidence to do more, have more and be more of the person you came here to be!
What opens the vault to being Highly favored?
And…How do you forgive the Evil some people are?
How can anyone shift from misery to being Highly Favored?
Here's what happened…
A beautiful Goddess, Kuyen (Goddess of Ancestors and past lives) came to me with a petition. She says that many ancestors on the 'other side' have messages and blessings to bestow upon us. The problem is that many of these ancestors died with LOTS of unresolved conflicts.
Old guilt, blame and unforgiven energies are preventing their forward evolution.
Kuyen, asked for me to bring forth a urgent plea for Forgiveness Ambassadors!
These Forgiveness Ambassadors hold the keys to unlocking the ancestors forward movement and ability to bless!
And THAT is not all!
Kuyen says that we will include our Ancestry of Star Beings as well!
And even THAT is not all!
Kuyen says that we must include asking forgiveness on behalf of Gaia, animal kingdoms and mystical creatures.
Imagine collecting blessings not only from our HUMAN ancestry but our STAR ancestry as well.
Know this…if you are human, you have been hurt and may need to extend or accept forgiveness.
Know this also…if one is a Star Being, they have  been hurt.
Know this…beings in the animal kingdom have also been hurt.
Gaia has certainly been hurt and continues to be hurt.
Elementals, dragons, unicorns, creatures of the air and sky have been hurt.
Mystical creatures have been hurt so badly that they had to escape to another dimension and become INVISIBLE to human eyes!
Imagine the JOY of BEING that 'Blessing Bringer' of release to ALL of our ancestry!
Kuyen has given  me step-by-step instructions on EXACTLY how to do this. She requests that this sacred ceremony take place in the "Star Cave" of healing.
Our reward will be that we become HIGHLY FAVORED INDEED!
In class, I will be sharing:
How to be an Ambassador of Forgiveness
How to clear your own personal Forgiveness issues
How to claim with authority being Highly Favored
How to you keep the FAVOR up.
How to you make the Favor grow even stronger.
How to extend the favor to your own family line.
How to use an ancient Egyptian ritual to permanently install Highly Favored.
There is a also a frequency code from the Andromeda system that assures that this state of being Highly Favored will continue for you. (I will share this in class- the Andromedins have  given it to me .)
One final step seals the deal for you…
We will go into your Akashic records and change it to reflect the great deeds you have done. as Forgiveness Ambassador! This will mark you as officially Highly favored.
This is a simple process. And a much needed one.
Kuyen's  guidance continues:
Energies need to be reconciled.
Enormous amounts of ancestral energies are waiting to help you~ to bestow blessings upon you. Once the path is cleared, blessings shall flow easily!
Yes, forgiveness is key. Use the power of the Star Cave to drive out the aberrant patterns.
This will open the portal to all realms of ancestries.
Kuyen is asking me to use the drum and the singing  bowl to open the portals to all realms of ancestors.
If you are attracted to this class, your soul desires you to be a huge catalyst of forgiveness for all.
Even if you are only interested in becoming Highly Favored that's just human nature. Will  you allow this goddess to guide you in forgiveness?
To be a channel of Divine Forgiveness is as simple as making the DECISION to do so.
Do you know that you were powerful enough to choose to do this?
If you doubt your power that's OK.
Follow along with the rituals that we do in this class.
Your willingness to simply show up is more than you know.
You are the peacemaker, the peace bringer. By you're doing this, you bring more peace and harmony to your own life.
There are hidden messages available for the asking. Breaking the ties that bind. Stories and vibrations held in your cellular memory can benefit you, or harm you.  This process will CLEAR those that work against you.
When you stop evolving, your ancestors stop too. When anyone stops evolving, it affects the whole of the universes. The energy that is created when we are of service to others is everlasting spiritual wealth.
Your ancestors are in prisons calling out to you for assistance. Some are trapped because they crossed over in a state of blame and forgiveness. Success always follows service.
You will be rewarded and highly favored forever for doing your part.
Zoom class times:
ENCORE!
Tuesday Nov 1 at 7 PM eastern!
One ticket gives you entrance to all class times. If you cannot attend live, register anyway and receive this ritual and activation of being "Highly Favored" by video recording.
Here is what you get:
6 hours of teaching. Value ~ $ 1200.(each session is 2 hours and you have access to all)
Lifetime access to video recordings. Value ~ Priceless!
Written transcript. Value ~ $ 297
Changing Your Akashic records Value ~ Absolutely Priceless!
Egyptian Ritual to insure Highly Favored continues ~ Priceless!
Bonus Audio "Healing Within the Akashic Records" Value ~ $277
Bonus Audio :How to get ready for More Money" Value ~ $ 77 (after all Being Highly Favored will help you attract more money- get your energy READY)
TOTAL Value: $1651
You pay only $77.00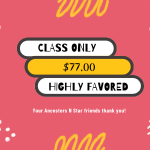 or 3 payments of  $27.77 each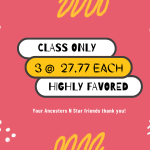 Wait!
Special Upgrade offer that has NEVER been offered on the face of the earth before.
Class PLUS Light Language message from a Star Brother or Sister for you.
$199.97 (There were 20 (2 left)of these available and they always go fast, I'm NOT kidding.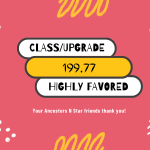 Details:
I have been instructed to do something that has never been done on this planet.
For those who choose this upgrade I will bring in a message From the Star Kingdom.
A star Brother or sister has a message for you. I will deliver that message in the light language frequency of that star being. You will not understand the words. However I have been instructed That I have the power to interpret this language of frequency for you
This will be a  short yet powerful frequency message delivered to you by audio. You will be able to listen as often you desire. This is especially beneficial as you are drifting off to sleep.
The Personalized Light language  frequency Will Began to awaken codes and memories within you. This can  enhance your spiritual growth beyond your imagination!
I do not know how or why I have been given this gift Of speaking several Star frequency languages. However after my Star Cave Experiences… it simply appeared When I was guided to do this for you, I had to try it out for myself first. So, I channeled in a light frequency message from The Acturians and  interpreted it for myself.
I wish I had been recording it because it was quite wonderful.
Drop to your heart and see if this calls to you!