Well…I thought I would have time to email you when I was at this Star Magic training.
However, this was the MOST intense, cutting-edge training I have ever attended. There was hardly a moment we were not learning and practicing the techniques!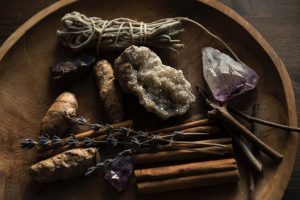 ~I thought MY stuff was bat-shit crazy out there! This training was even "out-there" for me!
At the conference I learned many new techniques which will make our sessions even MORE powerful and effective!
The things learned there will skyrocket all spiritual and psychic abilities!
I am not certified to TEACH Star Magic to you…however, I am encouraged to DO them to you! (I do have my own Star Cave healing and it is VERY compatible!)
You can look forward to even more benefits from any class or session we have!
When I returned home from the Star magic conference my backyard was so happy to see me!
It seemed every flower was in bloom, even tho it was November!
Click n the image to enlarge.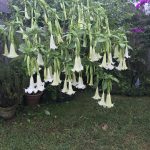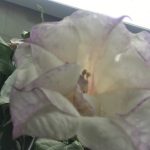 This is a different species of Angel Trumpet that just "showed up" in our yard!  Wedid not plant it and it is accross the yard from the white Angel Trumpets.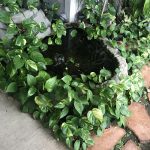 Ivy Growing Happily around one of our goldfish ponds.
This is our sweet Little garden Angel! The bridge is over another Goldfish pond.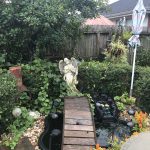 These are called Angel Trumpets and they bloom a few times a year. I had a dream a few days ago where the flowers were loving up on me!