My Healthy Homemade Strawberry Preserves
Seriously…eat all of this that you want!
Contains about 2 cups of strawberries, at only 57 calories per cup …come on eat!!!
The Sure Jell  has no calories or carbs.
The erythritol has no calories or carbs.
Best of all…erythritol has absolutely NO AFTERTASTE!  (I can't stand stevia, monk fruit or any other that I have tried)
It's so fresh tasting and almost NO work!
I have a policy against TOO much work in the kitchen!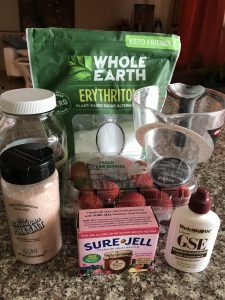 Very IMPORTANT…DO NOT use the directions on the Sure Jell. Use mine…it has been perfect every time!
Ingredients needed:
One large carton strawberries

(if you can't get organic then soak for 30 minutes in 1/4 cup baking soda then rinse completely before using)

One small package Sure-Jell for low sugar recipes.The package is Pink.
1 cup erythritol
1 cup water
 dash of sea salt or to taste
*Optional: Grapefruit seed extract as preservative if you think it will last more than two weeks (it probably won't)
Directions: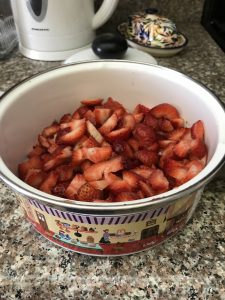 After rinsing the strawberries, chop them finely and put them in a saucepan.
To get them finer, use a hand held mixer after you have added the water.
Add all the ingredients and stir over low heat for about 30 minutes.

Let it come to a lazy boil for about 20 minutes.

Let the mixture cool for about an hour and then pour into a sanitized quart jar. 
Let it cool all the way before putting the lid on and then place in refrigerator.
Keeps at least a week or two. If you will keep longer, add a little Grapefruit seed extract as a preservative.
Makes exactly one quart.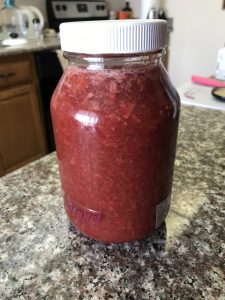 Description of sweetener.
Whole Earth Sweetener Co. 100% Erythritol, 4 Pound Pouch, Natural Sugar
 Alternative, Baking Substitute, Zero Calorie, Gluten Free, Non-GMO, Keto
I buy the 4 pound bag on Amazon for 15.98- lasts for weeks.
Other options:
Great with Blueberries or Peaches
Hint:
If you want it more liquid as in syrup… add another cup of water.
Wanna Kick it up a notch?
I sometimes add a few shakes of red cayenne pepper! That's because I LIKE things How and SWEET!
Love, Rebecca
PS: Please share this with anyone who is trying to eat healthier. (even if they are skinny)
PPS: Do YOU want to be slimmer?
I am bringing you something fabulous this very weekend.
Guaranteed or your money back.