My kids threw me a SURPRISE Birthday party this Saturday!
You can see the JOY, HUGS, and the LOVE with the photos and videos.
Four of the five made it. Several had to drive almost 400 miles.
(If I had known I  was going to a party, I sure would have fixed my hair!)
My daughter Belin put the whole thing together. 
They tricked me good by asking me to come babysit while they went out of town.
So, I thought I was showing up to watch my youngest grandson, Jack
(You can see Jack trying to dodge my hug at the shortly after I came in)
The gentleman beside me is my fiancé. That is such a magical, miracle story that it deserves it's own email!
(coming soon, I spill the beans on the magic I did to make that happen)
We all  had such a good time!
I am so blessed that I have marvelous, loving relationships with ALL of my kids! One of them even asked me for a session before she had to drive back home. (You know we LOVE sharing our gifts with our children)
My son Simon was not able to make it as he was getting over Covid.
(I call him BABY, but he is a 300 pound power lifter on his college team.) Simon is the big guy with the beard- he dwarfs me! This was for HIS birthday at the beginning of April)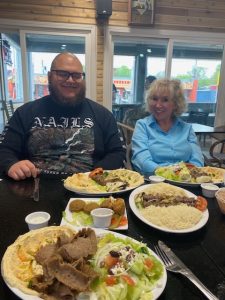 The food was from a Ukraine restaurant nearby. Lamb, beef, chicken spicy sauces. Salads, Cookies and of course, the wonderful cake!
My actual birthday is on the 29 and this was a week early.
I am Blessed Blessed and Grateful!
Here I am coming in to "babysit" ha ha. Jack was sneaking up behind but ran off as I was trying to hug him.
Ok, it's hard to get a crown to stay on in a birds nest!
I'm pretty SURE those were TRICK candles!
My son Andrew, My daughter Heide and my sis Taby. Me and Noah.  The cake!                                   A gift, Gaia!