See Mother Azna- live and in person- channeled through Rebecca.
Azna wants to answer your questions and give you guidance and teachings.
(I have been collecting your questions and have plenty already)
Two chances to attend: (or come to both as they will be different)
Sat Sept 10 at 4 Pm eastern, 3 PM CST, 1 PM pacific
Sun. Sept 11 at 6 PM eastern, 5 PM CST, 3 PM pacific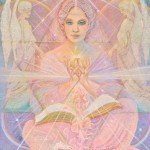 *
No cost to attend live- small charge for the replay and the transcript if you want it.
The fall of Atlantis and the Great re-connection process happening right now.
Mother Azna is asking me to step up the communication of Divine balance- so you can expect a lot more messages from her.
In case you don't already know…Azna is the name Mother God is known by on the other side. She is known by many names, Sophia, Isis, Heavenly Mother, Goddess, Mata, and more.
Azna will reveal what the name "Azna" means and how you can benefit from calling on her.
See Azna live via live streaming video Sept 10 at 3 PM eastern and  Sept 11 at 6PM eastern (new york time)
Here is an important message that you probably have never heard before.
You can expect a lot more of this depth from Mother Azna in the future.
***Note: This message is long and meant to be digested in increments that are comfortable for you. Keep this until you feel satiated. Please help me spread the wisdom of Azna by passing this to those you feel guided to send it to.
Mother Azna teaching about :
• fall of Atlantis
• severing of the corpus callosum (that thick bundle of nevus that connects the right and left side of the brain0 the corpus callosum is the Only way info gets to and from either side.)
• the great re-connection that is happening today.
Preframe: In my last live seminar, mother Azna gave us a great teaching about Atlantis and the corpus callosum. in the time of Atlantis, the corpus callosum was much more connected. If you look at a picture of the corpus callosum…it looks as if it has been cut.
A genetic severing of the corpus callosum occurred in the time of Atlantis as people became unwise in the use of the knowledge they were encapsulating.
Without full connection of the corpus callosum, less knowledge is available.
With knowledge comes great responsibility and the need for deeper wisdom. The Atlantians fell into an imbalance of knowledge without sufficient wisdom. (There will be more on this later but for the message today- let this be enough to digest.)
This is a time of "the great re-connection" as Mother Azna reveals to us how to embrace and accelerate our own re-connecting of the corpus callosum nerve endings. However, it is being made clear to me as I transmit this message that we ask for equal amounts of wisdom in the great re-connecting process.
End Preframe.
Today's' message.
The re-connecting process of your corpus callosum is occurring right now and can be enhanced with wisdom.
With more nerve endings re-connected there will be more communication from the inner worlds and high beings of light who seek to assist humanity in this evolutionary process.
There are many humans born with multiple connectors already in place or programmed to connect easily later in life. These beings have soul contracts to be your genius creators. Every category of development has such beings in place. Engineers, medical personnel, alternative practitioners, those in the computer field and especially those involved in quantum physics …all fields have beings in place with closely wired connectors in the corpus callosum.
These people are being flooded with ideas and insights. They are your leaders in their specific fields.
Now, it is time for all of humanity to consciously join in the great reconnection process. This is part of your ascension process- but hold on as you listen to my words- you may be surprised at how this unfolds.
Are you with me?
let us continue…
The outward physical being is not necessarily aware of the re-connection process.- yet, they follow their inner prompting of the soul.
How is this manifest?
By a simple thing called 'Interest"
Yes, we become interested in those things our heart calls us toward. As we follow that interest it serves to assist us in the re-connection process.
The corpus callosum was genetically cut in the time of Atlantis when knowledge surpassed wisdom
The severed ends are yearning for re-connection. They have never stopped yearning to be reunited and thus more whole- yet- the time has never been right. This is now
the time.
Register for live channeling below:
Q. From the consciousness of Rebecca. Why was the corpus callosum severed in the first place?
Azna: Because the beings were not wise. In  seeking to transcend the body- to discount the humanness!
They began to discount physical matter- the physical body.
The original intent of creation was to find a balance of matter and spirit…and so when it passed over into and imbalance of 'only spirit matters"…the pendulum swung way into the other direction.
Those interested in this message were likely part of the time of Atlantis and seek to be part of the great-re-balance and the great re-connation.
The severing process did not happen all at once…but gradually. The re-connection process will also happen gradually.
There must be balance between humanity and spirit…neither is greater or to be more honored than the other.
But- if you are in a situation where you need to choose which part to give attention to…choose humanity and the spirit will follow.
IE: if you are deep in prayer and you hear a baby crying- go help the baby. Spirit will follow.
IE: if you are meditation and your spouse needs to talk with you…go, spirit will follow.
IE: You have a choice between attending a church service or visiting a sick friend- listen to your heart and follow that. Your spirit will go with you where ever you go.
The spirit can also go places completely without the physical body- but that is a teaching for another day.
Many of you have been taught that the goal is to subdue all desires of the flesh. This is wrong teaching and shows a lack of trust!
Trying to bring human needs into submission is like waving a red flag for the mischievous energies to come and goad you!
Better to bring All your desires to the light- acknowledge them.
Those desires that may not be for your highest good will take on less importance and gradually fade. The important thing is to bring All your desires including those you are ashamed of to the light and acknowledge them.
To us- all desires are part of being human we do not label them shameful and we do not label them good. They are just desires caused by all kinds of circumstances.
Some desires are part of the great re-connection yearning and some are just off shoots of old patterns.
Key: Bring All your desires to the light.
The Light will enhance the desires that are part of your re-connecting process and diminish those that are not.
From the consciousness of Rebecca: But Azna, what if my desire is to sleep with my neighbor or something considered wicked?
Azna- what better reason than to bring that desire to the light. Sweeping it under the rug and pretending Not to have it will only cause it to grow .
Trust this process- leave shame behind. bring all desires to the light and you will be amazed at the transformations that occur. Can you just trust me on this- enough to try it?
Use the healing method of Heart Point technique that I have given through Rebecca to make this easier for you.
From Rebecca: Azna will be guiding you through Both the re-connection process exercise and the "desires into the Light" exercise live and in
person in the next live channeling session.
This is enough for today my beloveds. There is more to come as I see your hearts longing for more,
Love, Azna
Register for Live Channeling event Sept 10 and 11.