How to Give to the Work of Mother God
If you feel Blessed by this type of Information Donate to let me know.
It's a privilege to give to Mother Azna. If She puts it in your heart to donate to Her work, She knows it will burst wide open the reservoir of blessings held for you.
Please say this prayer before donating:
Dear Mother Azna, is it time for me to give money to your work?
If the answer is 'Yes,' then ask How much should I give?
(It may help to scan the amounts below to see what jumps out at you.)
If you get a 'No' on giving money, simply give your love to Mother Azna. Whether you give money or love or nothing at all, you are beloved in Her sight.
(If you would like pleasing auditory guidance- jut click the audio below)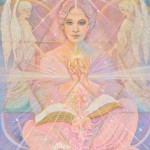 * ~ * ~ * ~ * ~ * ~ * ~ *~ * ~ * ~ *~ * ~ * ~ *
(Currently, donations are not tax-deductible and I am working on that.)
$1000 Blessing donation
$500 Blessing donation
$100 Blessing donation
$50 Blessing donation
$20 Blessing donation
$10 Blessing donation
 * ~ * ~ * ~ * ~ * ~ * ~ *~ * ~ * ~ *~ * ~ * ~ *
Petition to Mother Azna
Dear Mother Azna,
Thank you for hearing me. I petition you to help me with ________________. (Here you can get very specific and even include a time you would like to have this; this or something better.) Thank you, thank you, thank you.
Mother Azna will usually send you a sign within a few days to confirm that your prayer has been heard; a flower, a bee, or a frog will show up in some kind of way. Petitions are not always granted in the time we ask, but they are always heard and you can be assured, love is sent to you.