Lord Odin: Ancient Wisdom for Modern Life
Do you know the legend of Lord Odin?
He is said to be the "Father of the Gods" and is also known as the Lord of War, Wit, Wisdom and Magick!
It is said He gave one of his eyes in exchange for drinking from the Well of Mimir…the well that flows from the roots of the tree of the world, Yggdrasill, containing great wisdom.
Even though Lord Odin is known as the God of War…He is most known for carrying the slain to Valhalla.
Odin is asking me to open a portal of "Anti-War" which I will tell you about soon.
(Of course, it's far away…yet the rewards for humanly are very great!)
As an energy exchange for my faithfulness…Lord Odin is channeling through me some of His wisdom that we can use right now.
In addition, He is asking me to offer special sessions for those who are ready for truth. (More about that in the PS)
From Odin on Daily Living: Ancient Wisdom for a Modern World
In order to take control of the way your life is going… you must state what your desires are on a daily basis.
After you have decided what you want JUST FOR TODAY…state it out loud with authority!
This opens a portal for every assistance to come to you.
Be careful NOT to make your statements in a begging or subservient voice.
How do you wish to receive? With force and might? Or just barely a trickle?
Refine it and re-define it until you feel very clear and even then…leave the door open for something better.
Start off with small and build.
When people do exercises like this, they get overwhelmed with not getting it right.
The fear of not getting it right… or not asking for enough, can move you into the energy of clutching, hoarding, and hopelessness.
When planning too far ahead, or biting off too big a slice brings in a panic of…"Oh God, I'm not even sure what I do want."
By just practicing small commands on a daily basis…your confidence will grow!
Begin with…
What do I want for today?
Just for today.
Having gratitude for any and every small improvement is the oil that gets your circumstances improving.
As confidence grows, ease of manifesting will grow also!
Channeled from Lord Odin
From Rebecca:
Lord Odin added that I may include some examples of what this would look like.
State with authority…
Today, I am feeling great!
Today, I am safe and well.
Today, people understand what I am trying to convey.
Today, I have plenty to eat.
Today, I have a good place to stay.
Today I solve ____________ problem.
Today, I appreciate myself.
Today, I find it easy to forgive.
Today, unexpected money comes to me.
Today, I get some really good news.
Get the idea?
These are just some examples…not all will apply to everyone.
Lord Odin suggests that you have about 3 to declare with authority each day.
Hope you find this helpful,
Love,
Rebecca
PS: Lord Odin is asking me to offer some short "Truth Power sessions"
If you really want to know the truth about a thing…allow Lord Odin to guide you.
From the few sessions that I have had so far…I have to tell you.
(Image from Pinterest, unknown who to give credit)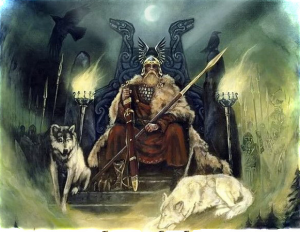 This Boy is BAD!
What I mean is that He will spit it out. No holds barred and he will tell you the TRUTH and it will probably hurt a bit.
But you cannot heal a thing that you are not aware of and believe me…Lord Odin will make you aware of the ROOT!
I have been shocked at His boldness…however, Lord Odin says that people are READY for truth, ready to get to the real heart and time to stop Pussy-footin' around.
Each Lord Odin TRUTH power session is only 30 minutes long. He will share the truth with you and give you the choice to heal it or not.
If you choose to have a session…you must promise NOT to be MAD at me…the messenger.
I will absolutely spit out the truth He gives me (as gently as I can)
Thirty minute Odin Truth Power Session – limited time offer.
Comments
comments