Fall off a log, EASY way to KNOW your Purpose.
Everybody wants to know their purpose…. right?
(Gee, if I only KNEW what my PURPOSE was….I'd HOP right up and do it!)
Maybe you have been criticising yourself because you feel like "just a dreamer".
Everybody who is making a BIG influence in the world today…started out as a dreamer.
But…how do you get from DREAMER to Visionary?
In this short little book…you will find everything you need to make what you THOUGHT was complicated …SIMPLE!
Today, I'm reviewing a book for you by Tony Rogers Jr.
VISIONARY!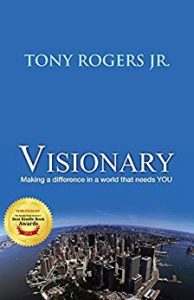 This simple  book will help you quickly get OUT of the confusion KNOWING your own purpose!
Get it today- you will LOVE me forever for this recommendation! (Amazon.com)
(I made you this video to explain  ( click for video)
 Know more about the difference between
a Dreamer and a Visionary…and  LOVE yourself no matter which one you are at present!
  Please use the SHARE Buttons Below to be a "Sharing angel" to your friends.
Love, Rebecca
Comments
comments