More Details: The Opening of the Grande Shekinah Portal
As I write this, I am preparing to leave on the another leg of my journey to open The Grande Shekinah Portal of Dual purpose.
(Read how I got the Portal instructions here)
Even though I am not allowed to reveal the exact location or area…I am allowed to share with you some of the details.
(BTW…Even I DON"T know the exact spot yet…only the general area)
Read why I'm not allowed to know ahead of time here:
There are two distinctions making this portal different than any other I have opened on behalf of humanity.
#1. I have to BUILD this one. It must be anchored in the earth's energies. I have exact instructions as to dimensions.
A. It must be 12 feet in diameter
B.It must be a perfect circle (I freaked on this because I am not known for being EXACT with measurements- but Spirit ALREADY gave me easy instruction to make it come out perfect- whew!)
C. It must be divided into increments totaling up to 12 (like a clock)
#2. It must be a 'dual purpose' portal with both Ascending and descending columns.
A.  RELEASING portion: It must have a male/ascending side- for releasing that which no longer serves. This includes negative energies, lost soul , economic depression, emotional suppression and and drumroll…releasing the STRANGLEHOLD of Patriarchal rule! (can I get a big AMEN?)
B. RECEIVING portion: It must have a female/descending side to usher in a NEW day of Pentecost, an outpouring of Holy Spirit for the healing of our lands, hearts and spirits. The Return of the Divine feminine will bring about balance.
The Actual Ceremony:
I don't have all the details yet but this much I do know…(These are NOT in any particular order) I SURE I will get all that in the right time.
I must LIE DOWN on the ASCENDING side when I am reading your prayer request and doing the releasing (It COULD take a while…)
Of course, honor the elements and the four directions.
Ask permission of nature spirits and guardians of the land
Make offerings to the land and the spirits
Call all the lost souls who are waiting for us to rescue them and open the portal for easy access to the light.
Before ANYTHING, I will DISMISS any interfering energies.
…and of course, I must use my MOSES STAFF that miraculously appeared for me the last time I was asked to open a portal.
I will let you know more soon.
What I DON'T know yet:
The exact day
The exact location
Why they asked ME (except I MUST have a soul agreement to do this because when I get the guidance I NEVER hesitate)
What I do know:
General area
WHY it's so important
Time of day
This is the only portal I have been asked to actually GET INTO IT. All the other portals have been energetic- this is BOTH energy and physical.
Dimensions
Direction to face
Kinds of stones needed to build the portal (Except for the center stone which is a pink quartz crystal, they must be found or gifted to me.) 12 stones are needed for the circumference.
The Miracle Gift of White Buffalo Woman
As I was praying on all this…Spirit says to me, "Rebecca, you need the assistance of White Buffalo Woman on this."
Ok, I don't know much about Her…yet I am open to all the help for best outcome.
That SAME day, I was driving down a country road…I look to my left and there as big as life is a statue of an enormous buffalo in some ones yard… (Who has a buffalo statue in their yard?)
I wanted to pull over to take a photo but there was no place that was not dangerous.
I felt guided to pull into the driveway, knock on the door and ask permission to take a photo.
As I pulled in, the FIRST thing I saw was this shrine to Divine Mother! Goosebumps!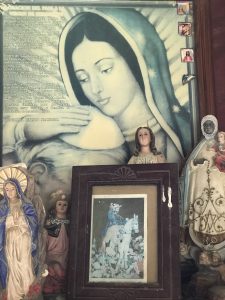 The family was SO nice and welcoming.
One of the family even came outside with me and asked if I would like for her to take a photo of me with Sir Buffalo!
I did ask the owner…please tell me the story of the buffalo.
He replied…"I don't have any reason, someone was selling it and I just bought it and put it in my yard."
Gee, isn't it awesome that Spirit knows what kind of confirmation to give us, way ahead of time?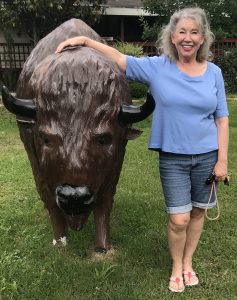 Here is the Lineup of my spiritual assistance in opening this portal.
It will be encircled around by Four Sophia Tribe Dragons- representing the Sophia presence in the four corners of all that is.
The Male/Ascending side with be led by Archangel Michael assisted by Gabriel, Uriel, Raphael, Lord Hanuman, Sri Yukteswar, Sufi Saint Data Dastagir Badshah and Ezekiel (I was perplexed by Ezekiel until I remembered that he is associated with the Sophia Code)
The Female/Descending side will be led by White Buffalo Woman, assisted by Isis, Kali Mata, Green Tara, Quan Yin, Hathor, Mother Mary and Mary Magdalene
Well…time for me to get back  on the road.
In a day or so (when I have good internet) I will tell you about The Miracle of the Pink Rose Quartz crystal.
(Read how I got the Portal instructions here)
Love. Rebecca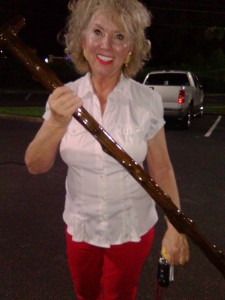 Priestess, Healer, Portal Master
PS: Woulkd you like for me to take YOUR prayer requests into the Portal?
Email me at childsuzy@yahoo.com
#2. Condense Your request… I will be receiving hundreds of requests, I cannot take an hour to read each one. SPIRIT KNOWS all your details.
What do you want to release?
What do you want to be blessed with?
Perfect Sample:
My name is Rebecca Marina, I desire to release BLANK .
I desire to be blessed with Blank.
(You can release as many as you desire and receive as many as you desire)
PSS: Would you like to help Fund this Mission?
Even though I freely gift my time and Life force energy… it cost MONEY to undertake a journey like this.
I am ready to recieve Your gift to go towards the expenses of this long journey.
Fill in any amount you  feel GOOD about. (You may contribute as many times as you like)
(All those who contribute will recieve a special AUDIO of Divine Mother Blessing for your own personal miracle or hearts desire.)
Your contributions to this Mission will go towards:
Gas
Car expense
Accommodations
Food (Yes, I will be eating, hee hee)
Supplies for the offerings
Supplies to BUILD the Portal. (This time, I actually have to build it in form to EXACT specifications)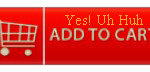 As always, I will be making offerings of tobacco, cornmeal
and of course…chocolate for the fairies and elementals!
I will be giving you more updates as I have internet service and am not driving.
Want to know MORE about releasing and other details?
(Read how I got the Portal instructions here)
Want the beginning details?
(Read how I got the Portal instructions here)
Comments
comments