My New Office
Breaking news!
You can take advantage of the Grand Opening special I am offering my new clients here in Port Isabel.
Scroll down to the bottom to get yours reserved.
I am opening a brick and mortar office here in Port Isabel Texas.
Since I moved here away from my family, I now live alone. I do just fine all day long but along about 4 Pm I get to hankering for some company.
So I figured, I would open a local office and have some local clients. This way, I can serve my community and have some human interaction as well.
Of course, I will  always be teaching teleclasses for you- Lordy, I don't think the local folks are quite ready for the topics I teach you!
It is a small office…but how much space do I need to hypnotize people or to give them an Intuitive Guidance session?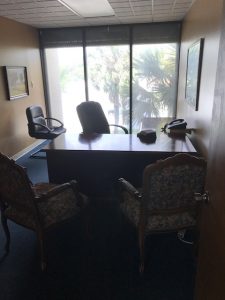 The office is barely open and I am having some introductory specials.
Because you are my part of my treasured community , it is only fair to extend to you the same introductory offers.
Here's your chance to take advantage of the same introductory specials I am offering locally.
A 50 minute Intuitive Guidance or Hypnosis session for only $150.
…And I am offering them a coupon, so I will offer the same to you.
Use Coupon code LOCAL and save 10% instantly!
Only $135 with coupon!
Online offer limited to TEN Clients- so book yours today. (If you don't need it this red hot minute, take the savings and BANK the session for later.)
When you place your order, you will get instructions on how to get your guidance session scheduled. Take advantage of this while it lasts.
Love, Rebecca
PS: Registration is ongoing for seminar July 29,30
Channel The Galaxy
(Live in Houston or Livestream video)
If you want to learn how to connect easily with the Pleiadians and Arcturians…I can and will make it easy for you!
Details: http://channelthegalaxy.com 
http://wp.me/pq2xG-3uG
Comments
comments