Whoooo, Guards My Organic Garden?
Two Topics:
#1. My Organic garden (I'd love to have you for dinner in about two months)
#2. Video: Benefits of "Eye of Horus" certification. Make money while transforming yourself, opening your third eye and helping others ascend! (Deadline to save, March 21)
"""""""""""""""""""""""""""""""""""""""""""""`
#1. My Organic Garden
My faithful friend "Mr Owl" never sleeps. He keeps guard all night over my newly planted organic garden. (Birds, rats, and other critters just LOVE baby vegetables)
During the day, the sun charges up his batteries and when motion is detected, his eyes flash and he makes a crazy attempt at 'Whoo Whooo".
(Hey, he's probably made in China and their version of 'owl talk' is…well, different.)
*I did take the precaution to add some bird-scare tape to discourage crackles. They are the BRAVEST birds I've ever seen.
Every morning, I can hardly wait to run out to my garden and see what has developed while I was sleeping!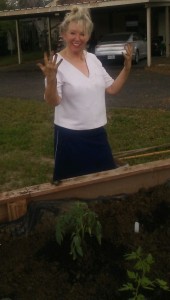 Getting your hands dirty planting a garden is one of the most pleasurable, sensual feelings on earth. It's as if you can feel the life-force of the Goddess coming up through your fingertips.
See the rest of the pictures… (All except for the one showing my butt-crack)
An astrologer advised me years ago…get out and plant, play in the dirt. There is nothing better to help ground you than getting dirty!
So….even if you just play in the soil of some potted plants, try this wonderful, pleasurable way of grounding. (Don't worry if you always kill your plants- get some ivy…it loves you no matter what)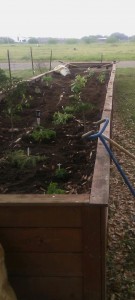 """""""""""""""""""""""""""""""""""""""""""""""`
#2. Video: Benefits of "Eye of Horus" certification.
 Plus, this video has the unique "Piezoelectric Pineal Gland activation, exercise.
*Alert, deadline to save March 21.
April 1,2,3 (Live or by video- you still get certified)
South Padre Island Texas or Video Transmission.
I love you!
Rebecca
PS: Everybody who comes LIVE will get some fresh organic vegetables (If they are ripe in time)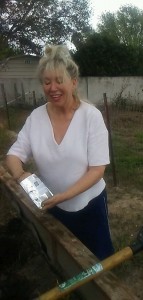 PSS: I wanted to show you the photo of me, blessing the garden.
However…I had been bending over all day and when I raised my arms to bless…my butt-crack was showing.(unbeknownst to me)
Comments
comments