How to Take Dominion Over Poverty
Here is my true story of how I discovered how to Take Dominion over Poverty. Let me define these words for you first…
do-min-ion [duh–min-yuhn] the power or right of governing and controlling; sovereign authority. Supreme authority (in other words, quit being a wuss!)

pov-er-ty [pä-vər-tē\ ] the state of one who lacks a usual or socially acceptable amount of money or material possessions (key word Lack- of anything)
My heart sank when I heard the desperate note in the caller's voice.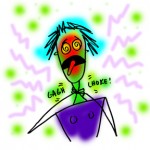 It was dinnertime and I usually let the phone go to voicemail. However, I had already said, hello; so, I put my feelings aside and listened (somewhat impatiently).
"I have done your 30 Angel Steps, all kinds of past life healing, ancestral work and I still feel like a dark cloud is hovering over me. My financial troubles seem to get worse and I feel desperate. I feel like I have done it all and yet, nothing has worked for me. I am still stuck and it feels like a "poverty monster" has a hold on me!"
Because I used to be in the same (or worse) predicament, I felt tremendous empathy for this dear lady. At one time, I was so poor I walked along the roadside looking for lost coins or cans to sell in order to feed my baby. I wish, wish, wish I had a magic wand to wave on behalf of this caller … to make it all go away. The best I could do was suggest she get one on-one help from the "Specialists" on my Raving Resources page. (You can list your specialty here as well)
However, the call had started a "fire-in-my-belly" that continued to rage long after I had hung up the phone.
Sometimes, I get plumb aggravated at my spirit advisors! I know I am not supposed to take others' burdens to heart but I just can't help it. Sure, I pray for people but I like SOLUTIONS. I like folks to get RESULTS.
I hate to see people stay stuck especially after following my teachings. (Please, I don't want a lot of letters telling me I am not responsible for the outcome- I already KNOW that…I still want the positive outcome)
I began an earnest conversation with Mother God and my spirit advisors…
"Why? Why? Why? I practically shouted at Mother Azna, Why can't people get liberated for good? Why can't they take dominion over the poverty monster and any other monster in life? Are we not meant to be powerful creators and not helpless puppets?"
The conversation continues…
"Yes, I know a lot has to do with ancestral and past life vows and curses. People try and rescind the vows and curses of ancestral and past life issues and still- they remain stuck.
I am grateful when people get freedom and move forward… but many don't and I just can't stand not having an answer! What is the missing link, Heavenly Mother? What am I Not getting?
I want some answers and I want them right now!"
By now, you may be cringing, thinking…
Gee, Rebecca, aren't you afraid lighting will strike you, talking to your Spirit Advisors that way?
My answer to your question is NO because I have been asked to be a teacher, a channel of Divine Wisdom. I have the spiritual authority and right to demand answers (as do you).
Now pay attention…here is just part of the answer I was given from Spirit.
"Rebecca, yes, much pain is caused from old vows, curses, energy patterns and false beliefs. This stems from present life, ancestral life and past lifetimes."
Here is the reason most 'vow rescinding and curse removal' has not worked well. It is as if a negative vow is more powerful than a positive vow!
The techniques you have tried may not have worked because you came at it with NO EMOTION. You can bet your boots than when the vow, curse or negative energy pattern was set up, there was some SERIOUS, Heavy duty emotion going on.
To truly release the stranglehold of negative energy you must get in a powerful emotional state. This is a most powerful spiritual teaching and you will find it clears old crap like magic.
True Story…
My daughter went to a rock concert a few days ago. There are often creepy energies hanging around. Later, she told me that she had been having demonic dreams and asked me to cleanse her room. I grabbed her by the hand and took her in to her room.I began the technique for calling in spiritual authority and taking dominion over any dark energies. The whole process took less than 2 minutes. The air was sparkling clean- you could actually FEEL the energy getting lighter and the look on my daughter's face was pure relief. She has not had any more bad dreams either! (BTW- this is not scary at all.)
Q. How do false beliefs, dark vows and ancient curses get to be part of my energy patterns anyway?
A. Energy patterns can be passed down to you and your whole family line through past life experiences, ancestral experiences and even present day experiences.
Imagine this… A nun takes on a vow of poverty. She is usually in a state of heighted emotion and ceremony when she takes this vow. The stronger her emotion, the more invasive the energy pattern will have as it is passed down.
How about this…a ruler curses a group of people to poverty or slavery. He is usually in a state of heightened emotion when he does this. His words go out forcefully and vehemently and attach to all who are in the 'receptive emotional state'. The receptive emotional state is "any state of victimhood."
Picture this…A young child is pulling on Mother's skirt, trying to get her attention. The woman feeling frustrated and overwhelmed by her own situation snaps back at the child. "Can't you see I am busy, leave me alone". The child gets a message from this emotional outburst of, "I am not important, no one has time for me."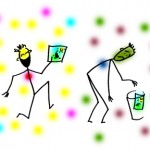 Has some version of this happened to you?… A child comes running to Dad so proud of a piece of artwork. The dad is distracted because he is working on the household bills. "Oh, that's nice but you know, you can never make a living with art".
Here is something closer to home…Husband and wife are arguing. He becomes enraged and says very cruel things that wound her deeply. Later, he comes in all soft with his apology.
The wife wants to forgive but the small amount of energy invested in the apology was Nothing like the Devastating Blast of the Fight. That is why it takes flowers, jewelry, and repeated vows of love to get through.
The amount of energy in the healing needs to equal the amount of energy in the hurting. (This example could easily be the wife hurting the husband; this is just for the sake of explaining.)
The Key to Understanding:
The stronger the emotion at the time pain was inflicted, the deeper the pattern settles in. Invasive, unrelenting and impossible to get rid of, if you don't know how.
The secret to taking Dominion over anything in your life, is taking back your rightful spiritual authority.
To fully heal, you must get into the equal or greater emotional space in which the original energy pattern was created.
After you release a negative pattern or vow, it MUST be replaced with a positive one. You cannot leave the space empty!
That is it in a nutshell.
This is precisely why my spirit advisors answered me so quickly. Because I demanded it so vehemently! I got into a powerful emotional space and was heard.
Yes, I unknowingly used the "power of emotion" and was answered.
I was in a highly charged emotional state when I cried out for Mother God to answer me. Mother God sprang into action. She is just like any mother who would rush to 'see what was wrong' when she heard her child cry out.
Have you been wondering why you are still carrying such heavy loads?
Why, after hearing and preaching about the Law of Attraction are you still Stuck? And do you really want to hear anything else about "The Secret?" There is enough prosperity info out there to choke a horse. For Pete's sake, let's get the show on the road already.
Is this resonating with you yet?
Is it starting to feel like the missing piece of your own Prosperity puzzle?
Are you starting to see why the poverty monster still thinks he can park his boots under your bed?
Are you ready to learn how you can take dominion over your own life?
Does coming from a place of spiritual authority sound better than being a puppet to old patterns?
Now you can get the audio download of this powerful class and experience the very same benefits as hundreds already ha
| | |
| --- | --- |
| Audio Only $27 | Audio & Transcripts $34 |
Just do as you are guided.
In this Audio class you will learn.
How ancient vows and curses could have a stranglehold on you right now.
How things in your life today can act like a curse, keeping you stuck
How to rescind old vows and curses so that you are really, really, really free.
How to come to a place of spiritual authority and take dominion over fear.
How to avoid re-activating the old energy patterns.
How to install a new positive vow and make it more powerful than the negative one.
Here are some questions that may be coming up for you:
Q. Rebecca, are you saying that a negative vow is more powerful than a positive vow?
A. Most of the time, negative vows/curses are given out in a highly emotional state. What positive vows can you think of? Wedding vows? Many of those were just repeated by rote after a clergy person. Look how often marriage vows are broken. This should be the highest example of a positive vow and yet the emotion is sadly lacking.
Q. Sounds like you are saying in order to permanently remove old curses/vows; we need to get in the same emotional space in which they were uttered. How am I going to know how to do that?
A. Spirit has already given me complete instructions on this. You will be guided in a safe, easy, yet powerful process.
Q. How am I going to make sure my positive vow is more powerful than the old negative one?
A. Spirit has given me a process to share with you that will "cement" the positive pattern in place. This will totally re-program you to a positive, prosperous pattern.
Q. How can taking this class help me with my prosperity issues?
A. Using HPT, The healing technique given by Mother God, you will learn to "take back your power". You will come into a place of spiritual authority and write your own destiny. You will no longer be in a strangle hold of old vows, curses, or energy patterns. There will be nothing to stop you from moving up. If something does come up – simply apply the techniques you learned in this class.
Q. Is there anything I can do to prepare my energy for this deep healing?
A. Yes, You will get instructions as soon as you register. Spirit has given me a "sacred sound" that will loosen the old patterns and have them ready for easy removal by class time. We will begin the class by using this sound as well.
Q. I am afraid; I will not be able to make my new positive vows stick. I don't even know what my new vow should be. What can you do to help me?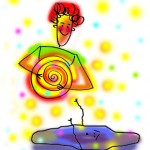 A. Spirit has already thought of this for you. There is only ONE vow that will take care of everything. I will give this new vow to you in class and for 21 days after the class, you will get daily reminders from me. Power words given to me by spirit- all you have to do is read them.
This HPT, Spiritual Authority technique will work for multitudes of issues but I was guided to make this first class specific to prosperity issues.
Release any vows, curses, energy patterns around taking your rightful, spiritual authority.
Release any vows, curses, energy patterns around poverty.
Release any vows, curses, energy patterns around hoarding
Release any vows, curses, energy patterns around self-denial
Release any vows, curses, energy patterns around being stuck.
Replace all negative vows with positive ones.
The wonderful thing about this process is that it will help to set your whole family free! Ancestral energy patterns are at the heart of many unexplainable conditions.
Do we all know families with patterns?
What famous family has a 'suicide' pattern? (Hemmingway).
Maybe, all the young men in power die young? (Kennedys)
What about physical issues? Can you think of families where all the men get heart disease in their 40's… or the women all get breast cancer.
Here are a few more questions you may want answered…
Q. Rebecca, do I need to know any energy healing methods to take this class?
A. No, all will be done right in the class.
Q. How can you offer such powerful healing in only 90 minutes?
A. Because the instructions come straight from Spirit- cuts right to the heart of the matter.
Q. Why are you only charging $27 for such unique, fresh from spirit, information?
A. I was told to offer this class for $27 and that is what I am doing.
Q. Why are you letting people choose an accountability partner for this class – you have never done this before?
A. It is part of my birthday gift to myself and to you and the person you choose. If you have a partner, you are more likely to really work on keeping the positive vows.
Q. How do I know this class will help me? I have taken so many.
A. Have you ever been taught how to take Spiritual Authority" before? Does the information resonate with you? What do you have to lose? More importantly, what do you have to gain? Let your heart give you the answer.
Let me hear how this has changed your life for the better after you take this audio class.
Your Divine Voice for Prosperity,
Rebecca Marina
Please join me in this most extraordinary healing event by taking my audio class.
Class Information:
| | |
| --- | --- |
| Audio Only $27 | Audio & Transcripts $34 |
Just do as you are guided.
Comments
comments